Welcome to the Adopted Vietnamese International (AVI) official Website.
NOTE: AVI is a modest volunteer project with increasingly limited capacities but still ensures archival information of past activities and writings can be accessed, and has created a social network FB group and community page for people to keep in touch. AVI is unable to provide formal services. Thank you for your understanding and good will.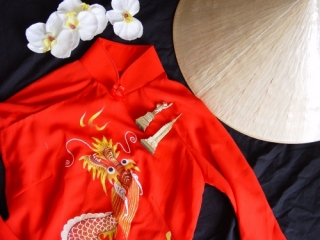 Created and run by Vietnamese adoptees. Exploring, Connecting and Promoting the Voices of Our Community
Welcome.
Adopted Vietnamese International (AVI) that is now over 15 years old and began by being dedicated to providing opportunities for adopted Vietnamese to explore our community and history together and to connect with each other. While we refer to 'Viet adoptees' as an umbrella term, our community welcomes and includes a range of individuals from Vietnamese orphanages, foster care and those born in refugee boats, refugee processing/detention centres and 2nd Gen in state care who share experiences of migration and cross-racial and intercultural upbringings.  AVI also aims to promote our unique insights on adoption and build networks with the wider community made up of adoptive parents and birth parents, other trans-racial adoption communities, younger generations of adopted Vietnamese, general members of the Vietnamese Diaspora and other cultural communities.  The AVI website now mostly provides access to archives about a range of resources, creative projects, adoptee events and research.
AVI was launched in April 2000 on the 25th anniversary of end the Viet Nam War.  AVI is a volunteer network that is dedicated to Vietnamese adoptees from past generations to today.  The first main generation were adopted before, during or in connection with the Viet Nam War or its mass exodus that directly resulted. Generations that followed came with refugees arriving in the 1980s and in present times, through international agreements between various nations. AVI is based in Australia and has an international membership including individuals from the US, Canada, and European nations. Wishing you peace, respect and connection.
AVI Website Upgrade
The original AVI website was set up in 2000 so we thought it was by time that we updated the website in 2013 while also making it easier to navigate and explore the wealth of information that we have collect for the past 11 years. We welcome suggestions and requests for information to be updated or removed, however we are also keen to preserve the historical nature of some of the stories and events where possible. Here are some suggestions:
– Personal reflections on adoption or a reunion with birth family or add a bio page.
– Photos that may be of relevance to existing AVI content (e.g. orphanage photos and even photos of orphanages now and then)
– Update or add a resource
We hope you enjoy the new site!