Adopted Vietnamese Identity and Place In the Diaspora project Archive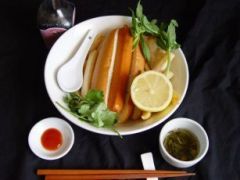 This is a part of an archived digital project on the experiences of adopted Vietnamese and 2nd Generation Vietnamese.
The project aimed to highlight emerging voices in the adopted Vietnamese community made up of individuals who migrated to the West as babies and children. The project was developed by Indigo Willing, an adopted Vietnamese Australian and Founder of AVI, when she was a Rockefeller Fellow (alternative residency – see below) in the Humanities for the "(Re)Construction of Place and Identity In the Vietnamese Diaspora" Project at The William Joiner Center for the Study of War and Social Consequences, UMASS, Boston, USA.
Immigration Plate Photo Series
Find out more about this photographic series here:
imaginingourselves.imow.org/pb/Story.aspx?id=1628&lang=1
(Photo Above: 'Authentic dog meat' by Indigo Willing and Asha Ardill, part of the photo series)
Adoptee and Second Generation: Personal Reflections on Being Vietnamese
Please note: The below stories were authored in 2002 – 2003. For updated stories of some of the authors and new ones visit the 'Related AVI Pages' below.
__________________________
Rockefeller Fellowship: The Vietnamese Diaspora
Rockefeller Fellowship: The Vietnamese Diaspora – Visit the website here
2002-2003 Rockefeller Fellows – Vist their website here
*Program director's special reflections on Rockefeller Research with the Vietnamese Diaspora through the Joiner Center and Asian American Studies – www.facebook.com/note.php?note_id=68096577033