Emmanuelle (aka Lê Thi My Hoang) kindly wrote and shares both good and sad news. Our thoughts are with you.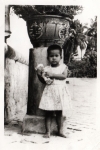 Hello everybody !!:
I've got a great news today !!! Do you remember me? I sent you a mail one or two months ago, because I was searching my biological mother. I found my father (unfortunately my mother died 3 years ago…)
[Edit]
Lots of love
Emmanuelle aka Lê Thi My Hoang
Read more about her reunification with her biological family, her life beginning at orphanage : LA PROVIDENCE of Hoa-Khanh and journey over to France in 1972 her Emmanuelle Babey Reflections page.