Old address pre-war:
462 Vo Di Nyug Ave, Phu-Nhuan, Saigon (photo above taken in 1971)
New address post-war (thanks to Dave Medhurst and families):
The address is 468 Nguyen Kiem, Phu Nhuan, HCMC. Taxis aren't allowed down the street, but its only a 200mtre walk from the petrol station at the intersection.
Background:
Former Principal at the orphanage 1969 – 1975, was Madame Nguyen, Thi Lan, moved to California. Former Founder Madame Nguyen Thi Hai moved to Switzerland.
Thong Thien Hoc Orphanage Photos Today:
Thank you Dave Medhurst (who has kindly shared his story further down the page) and family for sending these photos in November 2011. See his reunion story further down page. The orphanage is now a War Veterans building.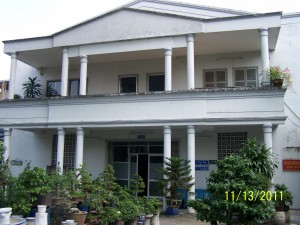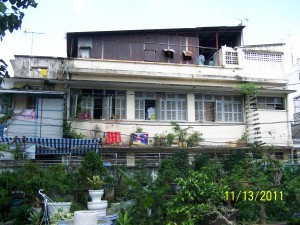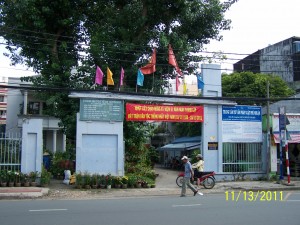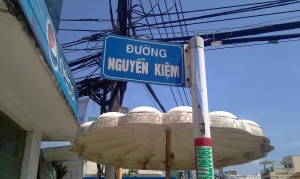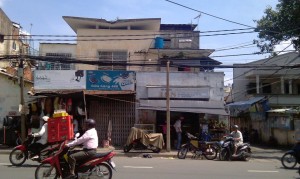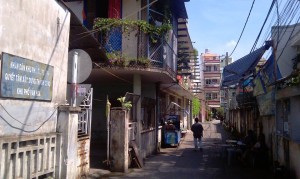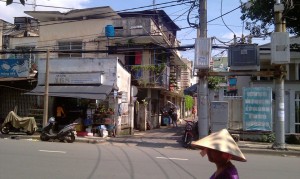 More photos are available – please email adoptedvietnamese@hotmail.com so your request can be shared with Mr Medhurst.
Thong Thien Hoc Group Today
Thong Thien Hoc Group was supported by the Theosophical Society and is a combination of Buddhist and Catholicism. Principal of the orphanage was Madame Nguyen, Thi Lan.  The Thong Thien Hoc Group are now relocated, and the contact is Nguyen Trung Nghia: nghia@thongthienhoc.org
Shadow Men Aid Local Orphanage (article)
Story about September 24, 1969
"… The "troops" they support are the children of Thong Thien Hoc Orphanage in Saigon. The orphanage has 40 children ranging in age from two months to three years. …Every two weeks, men of the 17th SOS visit Thong Thien Hoc and deliver powdered milk, diapers, baby vitamins and clothing.  Often, toys are included.  Capt Moritmer J. Hall remarked, "When these special gifts are distributed, the expressions on the faces of the little children are indescribable.  For most, it is the first toy they have ever been given…"
Full article: www.tsna.org/7thafnews/september241969.html
Searching for birth siblings – Latest status 2011 FOUND
Thank you so much for David for giving permission to share his story, and his wife Claire's ongoing correspondence with AVI too.
David (Hoang) writes:-
SIBLINGS UNITED AFTER 36 YEARS
When I left Vietnam in 1975 during Operation Baby Lift, I was 7 years old and was able to remember the whole turn of events around that time. I was adopted to an English couple living in Australia with my younger brother Mark (Luan). I told my adoptive parents that I had a mother still in Vietnam, and an older sister living with my mother and other siblings. With the help of my adoptive parents I was able to locate my mother in 1983. Over the coming years we corresponded by letter and swapped photographs. That was when I found out that my other siblings, a younger brother (Tung) and sister (Tuyen) had been adopted out to the USA. My parents then tried to find them also right up to this very day. 
It wasn't until 1996 that I was able to meet my biological mother face to face, which was a very emotional moment. Since then I have returned to Vietnam a further 5 times.
In 2007 my wife and I visited my mother, 8 years after the last visit. On this occasion she gave me birth certificates of my brother and sister that had gone to the USA and asked if I would look for them. I told her that I had been trying all these years, and would continue the search for them.
I would like to note that by now, we had come to the conclusion in the back of our mind that my brother and sister might possibly have died on the last plane that crashed on its way to the USA, explaining the reason why we hadn't been able to locate them all these years.
With renewed hope that we would find them, when we came back to Australia, my wife joined up to the facebook page, Adoptive Vietnamese International (AVI) and many other websites posting on them details of my brother and sister and that we were searching for them.
In early July of this year (2011), my wife had a phone call at her work from an American called Todd. He had seen our post on one of the websites and was saying that he was my brother. My wife told him that he had 2 brothers here in Australia and a mother and sister still in Vietnam.
My wife rang me and told me the good news, a wave of emotion came over me.
That night, I telephoned Todd. I found out that he and my sister had been adopted together and had western names of Todd and Katina. 
Over the next couple of months we corresponded many times by email, skype and telephone, trying to catch up with 36 years of news and also decided that we should all meet in Vietnam.
So after 36 years, we are going to be re-united. In November 2011 the Pham family will all be meeting in Saigon.
Original contact with AVI was made in 2001.
Archive message from David's wife Claire Medhurst 
Operation Babylift person, David, is searching for 2 siblings who were also airlifted out.  These two – a boy and a girl – were sent to the US on 26th April 1975 (we think, as this is the date his mother gave us last week) – this may be incorrect as David remembers the younger two leaving before him (he arrived in Australia on the 18th April 1975).  There are varying stories relating to their father – one being that one of the children (Tuyen) was fathered by a US soldier – Clyde Leverett from Fort Campbell, Kentucky.  The children's birth names are:
Pham Van Tung (boy) – born Feb 2 1973 in Tay Ninh to Pham Thi Bach-Tuyet (mother)
Pham Thi Tuyen (girl) – born July 29 1970 in Tay Ninh to Pham Thi Bach-Tuyet (mother)
My husband's birth name is Pham Van Hoang, his adopted name is David Hoang Medhurst.
Tuyen & Tung were possibly accompanied to America with a Lawyer by the name of Mrs Tran Ngoc An, or she is the person who arranged their adoption from Vietnam.  The children were in the care of the Theosophical Society and were adopted from the Thong Thien Hoc Orphanage in Saigon, where their mother was apparently a wet nurse.
Is there any way you can help us locate his siblings as his search has been ongoing for years but has so far been fruitless.
Any assistance you can offer would be greatly appreciated.
Thanks
David and Claire Medhurst
Searching Adoptee from Thong Thien Hoc
I am a female who was born around October 1971, and placed at the Thong-Thien Hoc Orphanage, 462 Vo Di Nyug Ave, Phu-Nhuan, Saigon – under the principal at the orphanage, Nguyen, Thi Lan. I was later moved to the World Vision Hospital and then adopted to Australia.  If you have any information please contact: adoptedvietnamese@hotmail.com quoting "Huynh Thi Diep Thuy"
My background details are as follows from my extract from birth records:
Viet name: Huynh Thi Diep Thuy
Place of birth: Hanh Thong Hamlet
Birth certificate: Gia Dinh Province, Go-Vap District.
Seal from: Administrative Committee of the Hanh Thong Hamlet
Searching for child from go vap orphanage – paper work done at Thong Thien Hoc
Vietnam Adoption ( Go Vap Orphanage )
Dao Van Thanh, he lived with her mother until the age of three.Unable to care for him, his mother brought him to Go Vap Orphanage, and wasadopted by American around June to Dec 1972.
Below are informations that we knowabout our son since he was in Go Vap Orphanage in Sai Gon and left there aroundJune to December 1973.
He was brought to the United States when he was 3 years old (wasborn 1970). His name was as Dao Van Thanh when he lived in Go Vap Orphanage. Hewas brought to The United States for adoption between June to Dec. 1972.The paper work was made by a member of Thong Thien Hoc Christian Church named Lan(The Church located at Phu Nhuan area in Sai Gon). Then, we received a picture of him on December 1972 with a sign on the back of the picture named Quang which different from his real name Dao Van Thanh.
Above are all informations that we know about him. We really appreciated helping us to find out our son. Please contact us at: NgoMinh000@cs.com (email may be archive – to update please email AVI)
Sincerely,
Father's name : Dao HoaPhuc Mother's name : NguyenThi Tuyet