General Advice when Agreeing to do a Documentary
When agreeing to be a subject in a documentary it is good to make sure you are fully comfortable with the idea of being in the public eye – possibly experiencing any number of situations or emotions.  Also, it is your right to get as fully briefed as possible on what the documentary sets out to achieve, and how you may be portrayed.  Look into the history of the director/producer and ask if you can see any of their past work.  Do not be afraid to ask to see some of the intended script and general research done on for the show in order to make it easier for  you to be a more empowered contributor.    Some things, for some people, are very sacred and private and by inviting a film crew to accompany you on a 'journey'- you can not guarantee your total privacy, and the privacy of those who you will meet.
AVI may not be formally connected to the following documentary makers and journalists, although AVI may have assisted some of them with their research and encourages all of them to treat the adopted Vietnamese community with sensitivity and respect.  We believe most will do so, thank them for their interest in our community, and send our well wishes for their projects.
Film Festivals, Workshops and Special Screenings (Global News)
For faster and more frequently updated notices on adoption films & documentaries please join the AVI Facebook Page.
Also see updates at www.adopteefilms.info which is co-presented by AVI and invited groups from the adoption community such as the IAC in 2011, and ICASN in 2009.
Events for Australia in 2011 include:
Workshops – 'Telling Our Stories' Video Making Workshop
A video making workshop for adoptees and the adoption community of QLD, to be held Sunday 31st July from 12.30 – 3pm.  The cost is free but registrations are essential (due 20 July).  More info on this workshop is posted at www.adopteefilms.info which in 2011 is co-presented by AVI and IAC and sponsored by various adoption related groups.
Screenings – Operation Babylift: The Lost Children of Vietnam
For Australian updates see www.adopteefilms.info and for international news you can also go to the project website: www.thebabylift.com
This film also screened earlier in the year in Perth.
Past Screenings
Documentaries for 35th Anniversary April 2010  see the 35th Projects, News & Events AVI page.
Touring Transcultural Adoptee Film Festival (TTAF) Australia  2009 Visit Here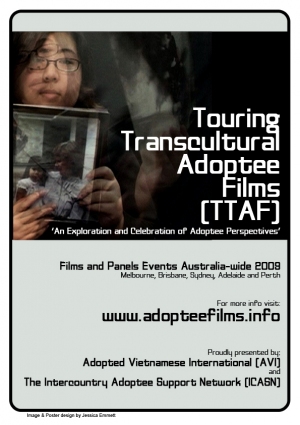 Art House: Adoptees and Foster Care Alumni Speak Out
November 6th, 2009
7:30pm – 10:00pm
Place – Rhythmix Cultural Works, 2513 Blanding Avenue, Alameda, CA 94501, directly off the Fruitvale exit off the 880 South. for directions to the Center: www.rhythmix.org/content/contactMap.html
This event is a benefit for the work of AFAAD and goes directly to support our Annual Gathering and the adoptees and foster care alumni we serve. Each year we host a community education event to educated the public about adult adoptee and foster care alumni issues for us, and by us.
$5-50 , no one turned away for lack of funds.
this event is accessible to those of all physical ability.
AFAAD is a fiscally sponsored project of San Francisco's Community Initiatives.
for more information
afaadinfo@gmail.com
afaad.wordpress.com
Featuring
Poets/ Novelists /Solo performers
James Cagney
Amber Field
Liberty Hultberg – writingforliberty.blogspot.com
Susan Ito – readingwritingliving.wordpress.com
Lisa Marie Rollins – birthproject.wordpress.com
Short films by
Kim Noonan – "Running Dragon"
www.runningdragonshort.com
Amber Field – "Jagadamba, Mother of the Universe"
www.amberfieldmusic.com/links.htm
Korean Drums by Korean Adoptees: Amie Kim, Adria Otte and Codie Otte, are part of a Korean drum troupe called Jamaesori (SisterSound). Jamaesori uses traditional Korean drumming to support social justice movements.
Minnesota Transracial Film Festival
Saturday, November 14, 2009
Time: 2:15pm – 9:30pm
Location: Oak Street Cinema
Street: 309 Oak Street S.E.
City/Town: Minneapolis, MN
Documentaries and Films
Viktoria Cowley's Special Delivery
Orphans of the Daily Mail Airlift UK 75
VN adoptee Vikki films her efforts to reunite with other 'Daily Mail orphans' of 1975 and trip back to Vietnam. Special coverage on this documentary includes BBC One, Monday November 9, at 7.30pm 2009:
www.eastbournerocks.co.uk/2009/10/30/from-saigon-to-sussex-reuniting-the-vietnamese-airlift-orphans/
For updates you can visit: http://special-delivery-mercy-mission.blogspot.com/
Operation Babylift: The Lost Children of Vietnam (2009)
Dear Friends, Family, Filmmakers, and Supporters,
"Operation Babylift: The Lost Children of Vietnam"  is more than just a historical piece about one of the most humanitarian efforts of our time. It tells the story of the volunteers who worked tirelessly amidst the chaos of war to give over 2,000 orphans  a chance for a better life. In addition, the documentary gives the now adult adoptees a voice to express their journey growing up in the United States away from their mother culture.  Everyone working on this project has in someway been affected by adoption or by the issues raised in the film, and we have been very blessed to have the opportunity tell this compelling story that has impacted so many people internationally.
You can go to the project website: www.thebabylift.com and forward it onto your friends.
—
Tammy Nguyen Lee
Against The Grain Productions
Producer/Director
"Operation Babylift: The Lost Children of Vietnam"
M: 323.842.8252
E: ATGProds@aol.com
www.thebabylift.com
UMBILICAL – reading of new script performance by Dominic Golding
Domininc is now working, as part of his MA in Theatre Arts at Monash, on a new stage production 'Umbilical' , part of which shall be presented at the Touring Transcultural Adoptee Film Festival (TTAF) Saturday 13 June 2009 at Mercy Lecture Theatre, Australian Catholic University. Presented by AVI and ICASN. More info see www.adopteefilms.info and Adopted Vietnamese International Facebook 'Events'
SHRIMP – screenplay and lead performance by Dominic Golding
It's official a page dedicated to the Shrimp project and future endevours: www.myspace.com/shrimpcompany
The Beautiful Country (2005) – Fiction film about an Amerasian's search for identity
Directed by: Hans Petter Molland
Cast: Bai Ling
Tim Roth
Nick Nolte
Running Time: TBD
Release Date: 5/13/2005
'The Beautiful Country' follows the story of Binh, a shy Vietnamese man in his 20s who embarks on a personal journey with a young beautiful woman, Ling, aboard a refugee ship to America in search of a better life and Binh's estranged American father. Release date 13 May 2005.
Official site: www.sonyclassics.com/comingsoon.php?filmid=60&page=1
Photo at: www.themoviebox.net/movies/2005/0-9ABC/BeautifulCountry/main.php
IMDB low down on the actors and preview review: www.imdb.com/title/tt0273108/
Red Wood Curtain (TV 1995)
Geri Riordan is adopted, half-Vietnamese, eighteen, and a piano prodigy. She also feels as if she doesn't know who she really is and when her adopted father dies, she begins to search for her biological father. The trail leads into the redwood forest the Riordans have owned for generations, to a 'Nam vet who lives there. But he doesn't want to talk to her, and Geri must convince him to give her the answers she's looking for.
IMDB low down on the actors and review: www.imdb.com/title/tt0114252/
Other: www.starlighters.org/redwood.html
Row Your Boat (2007) – short experimental film
by VN adoptee Jessica Emmett, digital visual artist
'Row Your Boat' short experimental film that will screen as part of the the Touring Transcultural Adoptee Film Festival (TTAF) Initiative. Presented by AVI and ICASN. More info see www.adopteefilms.info in 2009
You can also view it online and more ongoing works by Jessica Emmett:
www.jessica-emmett.com/Video/rowyourboat.html
Find out more on Jessica Emmett's Bio AVI Page
Motherland Documentary – Freemantle Media Australia (2008 – 2009)
Hello
I am working on a one hour documentary with a focus on people being reunited with someone from their past they've lost touch with, or never known.  As part of the program, we are seeking people who are desperate to reconnect with a long lost friend, past love, someone who influenced your life choices, a person you need to apologise to or a family member they've lost touch with.
We're willing to offer professional investigative assistance for the right stories.
I thought there would be adopted people or those who gave children up who'd like to be offered assistance with tracking down their family members.  If so, I'd love to hear from them.  Feel free to circulate this email to people within your office and who you come into contact with.
If someone wants to register their interest they can by phoning 03 9947 0248 or email: reunited2008@gmail.com
Warmest regards,
Tracy-Jean
*Note that this group are working with ICASN – for more info see www.icasn.org
Journey from the Fall (2007)
ImaginAsian Pictures, a division of IAEI, will be distributing Journey from the Fall, Ham Tran's film about the millions of Vietnamese who endured the uncertain migration to safety, and suffered through their homeland's re-education camps after the fall of Saigon. This is the first time the aftermath of the Vietnam war is told by those who actually lived through it, and this is a film that deserves to be seen by Vietnamese Americans everywhere. For more information on the film, please visit the official website at
www.journeyfromthefall.com or www.myspace.com/journeyfromthefall
Opening in New York City, Westminster, and San Jose on March 23, 2007 and nationwide on March 30, 2007, Journey from the Fall is directed by Ham Tran and is inspired by the true stories of Vietnamese refugees who fled their land after the fall of Saigon, and the struggles of those who stayed behind and suffered the brutalities of the re-education camps. The critically acclaimed film was an official selection of both the Sundance and the Pusan Film Festivals, and has won more than 10 awards at 20 festivals around the world.
The film stars Kieu Chinh, Long Nguyen, Diem Lien, Nguyen Thai Nguyen, and Jayvee Mai The Hiep.
Journey from the Fall (www.journeyfromthefall.com) will be released by ImaginAsian Pictures, a division of ImaginAsian Entertainment, Inc.
Call for Participants: "Voices of Adoption" (2007)
FWD:  IAC Call for Participants: "Voices of Adoption" (working title)
A Rainbow World Production
www.internationaladopteecongress.org//index.php?option=com_content&task=view&id=115&Itemid=103
To all domestic and internationally adopted individuals, fellow members of the adoption community are creating a feature length documentary, "Voices of Adoption" (working title) that will serve as a springboard for introducing your numerous, rich, and compelling voices to the world.
The documentary will be entered into mainstream film festivals and public exhibition forums.   Ultimately, our aspiration is to have it picked up for wide distribution.  Indeed, our goals for the project are ambitious, but our optimism is not unfounded – we believe in the power of our vast community and we are committed to having your perspectives, insights and voices heard.
In your e-mail, please include: full name, age, country of origin, and the ideas you have for your submission.  Important Note: Submission deadline is August 31, 2007.
Submission Formats accepted: Hi-8, Mini-DV, DV-cam.
Length: Please limit your submission to 15 minutes.
Please mail your submission, video release form and/or parental release form (if you are under the age of 18) to the project's editor, Jennifer Arndt-Johns:
Rainbow World
Jennifer Arndt-Johns
1920 S. 1st Sreet, #2206
Minneapolis, MN  55454
If you have any questions, please send an e-mail to Jennifer at: Jenrainbow@aol.com
PARC Searching for Birth Parents Publication and Documentary: The Face in the Mirror (2006)
The Sydney-based PARC has released a new booklet on what it is like to search for birth parents plus a documentary featuring teen adoptees – The Face in the Mirror.
For more info please contact Thea Ormerod at PARC 9365-3444 or email TheaO@bensoc.org.au
Adam Chau Thang (2006)
WHO: Adam Chau Thang
WHERE: MN, USA
WHEN: 2006
PROJECT: A video which will be shown to adoptive parents (ongoing), talking candidly about race, identity, culture, and growing up in a multicultural family and how that relates to adoption.
The video is being done for an adoption agency, along with the help of an adult adoptee volunteer and is looking to find more people who would be willing to share their experiences. Wanting a wide range of adoptees.
Interviewing is being done initially in MN. Depending upon the number of adopted persons willing to participate in one area, interviewing could be done in a location other than MN.
CONTACT: If you are interested in learning more or want to be participate, please contact Adam: chau.thang@gmail.com
My Life (Translated) (2004) – MTV
WHO: MTV
WHAT: "My Life (Translated) – announced September 1, 2004
A documentary special for MTV which features transcultural young adults, hosted by actress/MTV personality SuChin Pak. The show has been successful for MTV as a sincere, honest program that explores and educates issues surrounding transculturalism. Check out the link to the MTV.com site:
www.mtv.com/bands/m/mylifetranslated/
WHEN: As soon as possible
CONTACT: Jonathan Groce
Whatcha Lookin At Productions, LLC
226 W. 26th Street – 3rd Floor – New York, NY 10001 646.230.6915
(direct) 323.363.9606 (cell)
INFO: We are now producing a story on transcultural adoptions and exploring the issues and struggles that arise when a young adult decides to begin the journey of reconnecting with their heritage. Raised in an American culture, what happens when a young adult decides to explore a new ethnicity? What stereotypes must they challenge? How do their adoptive parents feel about the decision? Do the parents pressure them to remain Americanized? Seeking to readopt their ethnic heritage, do they face criticism from the ethnic community they want to join? What happens when parents encourage reconnection, but the child just isn't interested? How does a young adult maintain a crucial balance of cultural experiences?
If you are interested in sharing your journey with MTV, email us at MLT@mtvstaff.com. Tell us about your experiences and how your parents feel (or might feel) about your decision. Be sure to include your name, age and the best way to contact you. Keep in mind we are attempting to create a very positive story about the process and the journey, and in the process share the unique experiences of transcultural adoptees in America.
Australia: Manly Quarantine Short Documentary (need interviews April and May 2004)
Are you a Vietnamese adoptee who arrived in Sydney in 1975 and was temporarily placed at the Manly Quarantine Station in NSW, Australia? If so, a documentary maker working closely with The Museum of Sydney is preparing for short film on the station as part of an exhibition called "My City of Sydney". The exhibition will provide a portrait of the changing face of the city throughout the 20th Century.  The Director would like to include any Vietnamese orphans involved at the station, along with Chris Sturt – who worked there as a nurse and whose story is up on the AVI website. Contact: jessica.grynberg@hiltoncordell.com
US: Vietnamese American documentary in Production (2003)
My name is Van (Von) and I'm currently working on an educational documentary on diverse Vietnamese American families for the Saigon Television. I'm seeking for Vietnamese adoptees from the Vietnam War and would really appreciate if I can get any sort of help in regards to this project.  The documentary will explore four diverse Vietnamese American families.
GLBT (Gay, lesbian, bisexual, transgender) families,
Interracial families
Operation Babylift Orphans ("war babies" from the Vietnam War) 4. Divorce families.
This educational documentary will explore the question: What makes a family? and will be broadcasted on April 30th in memory of the Vietnam War.
Contact is Van Pham Email: visioninmotionproductions@yahoo.com
Operation Babylift documentary (Australia)
A one-hour television documentary on Operation Babylift. The researcher/producer, is Vietnamese refugee and journalist Dai Le. The contact details are:
Dai Le email: daile@d2.net.au
Australian Story: Travels with Muoi – ABC (2002)
www.abc.net.au/austory/archives/2002/05_AustoryArchives2002Idx_Monday22July2002.htm
"Travels with Muoi" tells the story of how a suburban white Australian family opened their home and their hearts to a troubled Vietnamese child twenty one years ago. Muoi Trinh had been through the Vietnam war, been given away by her parents, survived a perilous boat journey and months in a refugee camp before coming to Australia. Muoi arrived at the Archers Brisbane home as a thirteen year old, speaking no English, and suffering from chronic behavioural problems. It nearly went horribly wrong.
Documenting her journey of overcoming the struggle to achieve self-esteem, coping with severe loss, rejection and acceptance,  Muoi settled into her new surroundings and went on to represent Australia in the Olympic Skills competition her chosen career as a chef. Australian Story follows Muoi and the her Australian family, the Archers (including a funny scene where they pack as if they're climbing Everest in preparation to enter the ' Third World') to Ho Chi Minh City in Vietnam where they finally all meet Muoi's biological parents for the first time.
Daughter from Danang (USA) (2002)
www.pbs.org/wgbh/amex/daughter/
The documentary "Daughter from Danang"  was winner of the Sundance Grand Jury Prize 2002, nominated for an Academy Award 2003.  The film follows a young Amerasian woman as she searches for her Vietnamese birth mother and finds her in Vietnam, and their difficult relationship thereafter.
Videos are available from Interfaze Productions, 510-548-3699, gdoglin@igc.org.
Precious Cargo (USA)
www.pbs.org/itvs/preciouscargo/
A documentary made in 2000, it is about several children from Operation Babylift. The story follows them on a return visit back to Vietnam 25 years after their evacuation. In Precious Cargo US adopted Vietnamese Liz Sowles claims that "…the trip (back to Vietnam) answered a lot of questions in the sense of being at peace with what happened to me. Just seeing that other people (adopted from Vietnam) on the trip also had emotions and that we were all in the same boat was a help…I think it's the best thing I've done so far".
Missing Vietnam – Part of the Hybrid Life series (Australian) (2001)
www.roninfilms.com.au/feature/716.html
A Vietnamese orphan airlifted to Australia at the end of the war who returns to Saigon as a young woman inquiring into her past.  Adopted Vietnamese Leigh Bancroft's self-directed documentary Missing Vietnam begins where she reports being told to 'go visit Cabramatta, it's just like little Saigon or Vietnamese Chinatown' as a way to reconnect with her heritage. It's as if one day experiencing an 'ethnic spectacle' will connect her with some mythical roots.  Once there she expresses a sense of isolation remarking that she doesn't feel like she belongs there and '…is even allergic to fish sauce' , a typical Vietnamese condiment used daily by many Vietnamese.  Isolated from her cultural background for her first 25 years, it is clear there is more needed if she wants to discover and explore her pre-adoption background.  She decides to visit Vietnam but reports being further frustrated by a continuing sense of alienation due to her lack of Vietnamese language and cultural knowledge preventing her from fitting in.  She has jumped into the 'deep end' but is assisted on her journey by a famous Vietnamese journalist.  She attempts to find her biological Vietnamese parents, and is contacted by a Vietnamese man who physically resembles her – could this be her father?  He tells her that her possible birth mother does not want to meet her, that she is married and has a family and doesn't want the past to disrupt them. Part of the Hybrid Life series made in 2001.  Available for purchase from Ronin Films.
Orphans of the Airlift (UK)
This documentary covers the story of the Daily Mail's airlift of 99 children from Saigon orphanages to the UK.  Mercy mission or cynical journalism? The debate still rages about the airlifting of orphans from South Vietnam in April 1975, just weeks before the country fell to the North Vietnam army. Daily Mail editor David English certainly overcame formidable bureaucratic and logistical obstacles in bringing 99 children to the West, but for many his motives were more about self-publicity and snatching a morsel of moral victory from bitter military defeat. The programme talked to those involved in the airlift. For many of the babies a new life began with an adoptive family, but among the older children some were found not to be orphans at all and are haunted by their feeling of loss, and many have had problems adjusting to an alien culture. Despite a return visit to their country of birth, only two of the children have re-established contact with their families. Articles written about this airlift have branded it 'Operation Propaganda'.  British journalist Roy Greensdale remarked in hindsight, 'the stunt he pulled off in 1975 remains one of the most controversial journalistic enterprises of all time and illustrates the dangers of playing with people's lives.'  Greensdale revealed that only 51 of the 99 orphans were eventually adopted.  The others were sent to special homes and several have never left the Ockendon Venture children's home to which they were originally consigned.
Justin K Miller 'American Dream' – External site
Justin is from UCLA and has been working in Hollywood. He is adopted from Vietnam.
* Films by Korean Adoptees
Please contact Sunny Jo for a more detailed insight into Korean documentaries and KAD adoption issues: