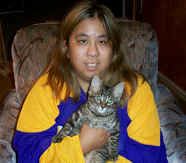 In memory of
Christine Watson – Parker (Ho Thi Ngoc Bic)
Adopted from Vietnam
1/19/72 – 1/20/04
You left so quickly that I never got to say all the things I wanted you to know. How infectious your giggling was. How I couldn't help smiling when I saw you or heard your voice. How I wondered at the way you put everyone else's happiness before your own. How a simple e-mail from you could lift the weight of a bad day. How terrifying it was riding in a car with you at the wheel! Just kidding. Your feet were small and your legs were short but, you had no problem pushing the accelerator pedal through the floor!
You never seemed to notice my lack of confidence. You never questioned my inability to express my feelings. You were one of the few people I could share silence with comfortably. I can only hope you know now how much you meant to me.
I knew you for 19 years. And of those 19 all in all we spent maybe a little over a years worth of time together. My memories of you may be few but, they are the brightest points in my life.
I will miss you forever and love you even longer.
Truly,
John